Implementatiesessies
Om de uitkomsten vanuit de feedback video's en user testen direct te implementeren, biedt Fibéo implementatiesessies in de vorm van workshops of design sprints.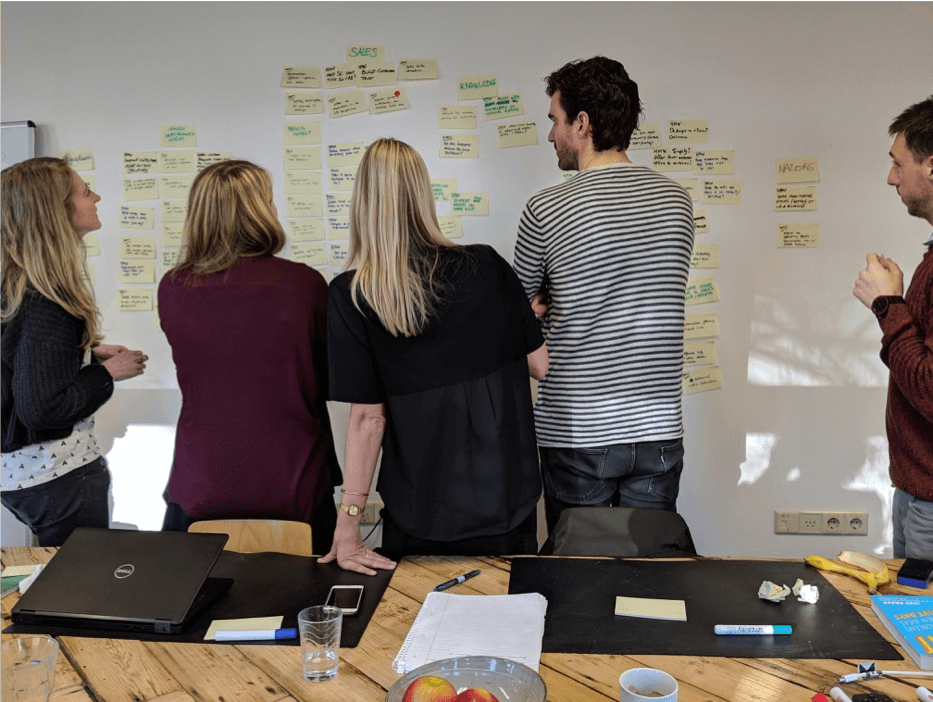 Stakeholders
Samen met de facilitator, CRO-specialist en UX-researcher van Fibéo brengen we per sessie de belangrijkste stakeholders bij elkaar, zoals:
Product manager/owner
Marketeers
UX-designers
Developers
Content manager
Klanten
Overige stakeholders
Workshops
Door ieder kwartaal of na iedere user test een workshop te organiseren, zorgen we voor een proces waarin (klant)inzichten doorlopend doorvertaald worden naar breed gedragen optimalisatietrajecten
Met alle betrokken stakeholders formuleren we 1 centraal thema, 1 doel en 1 challenge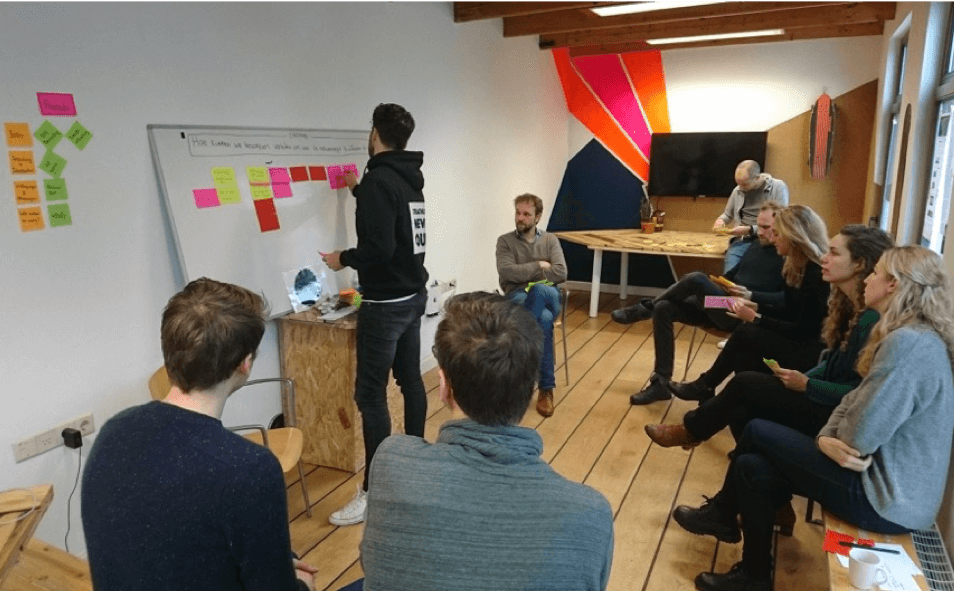 Input vóór de workshop:
Naast kennis uit de organisatie zelf, gebruiken we input uit kwalitatieve user testen en data-analyses
Fibéo verzorgt een expert review uitgevoerd door de CRO-specialist en UX-researcher
Resultaat workshop:
Een breed gedragen optimalisatieplan:
Met concreet afgebakende acties
Aan tijd en personen/teams gekoppeld
Tijdens een interactieve sessie (van één dagdeel):
Creëren we draagvlak voor verandering
Wat gaan en kunnen we veranderen?
Stellen we prioriteiten
Wat is belangrijk?
Bepalen we concrete acties (in de tijd)
Wat gaan we wanneer veranderen?
Benoemen we de verantwoordelijkheden
Wie is waar verantwoordelijk voor?
Brengen we afhankelijkheden in kaart
Wie hebben we nodig om veranderingen door te voeren?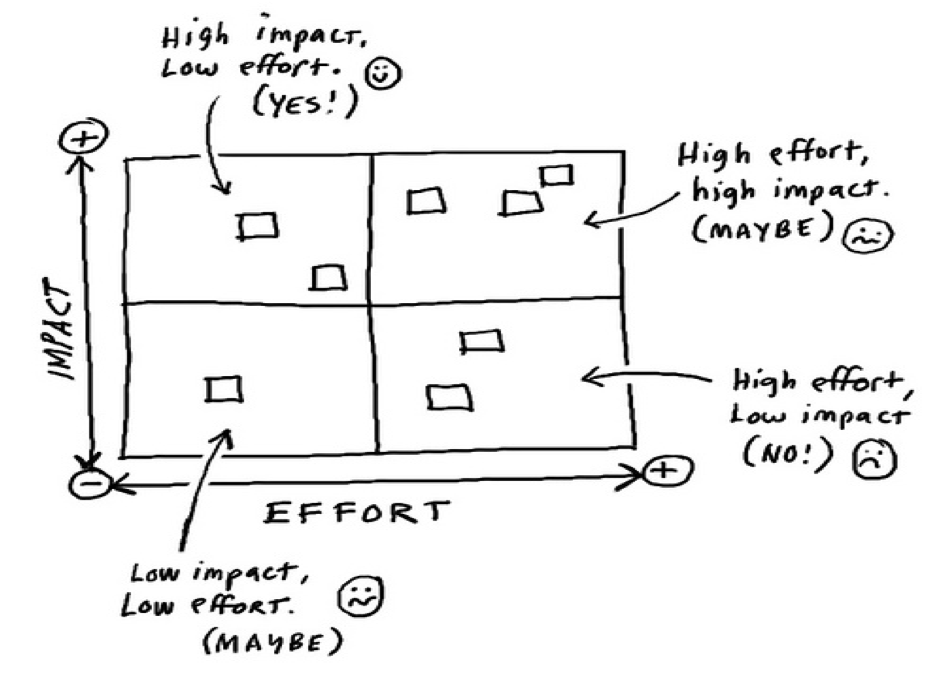 Effort / impact matrix
Met behulp van een effort / impact matrix brengen we als team prioritering aan in verander ideeën
Het bepaalt de verhouding tussen:
de effort: mate van inspanning om een
gewenste resultaat te behalen (effort)
en de impact: de invloed van deze effort
op doelstelling(en) van het project
Design sprint
Een design sprint is een intensief proces van een aantal dagen (meestal een werkweek) waarin een belangrijk vraagstuk binnen je organisatie wordt opgelost. Dit wordt gedaan door het ontwerpen en testen van oplossingen voor dat vraagstuk, in samenwerking met je klanten. Op deze manier kun je als organisatie snel de potentie van innovatieve producten en diensten testen.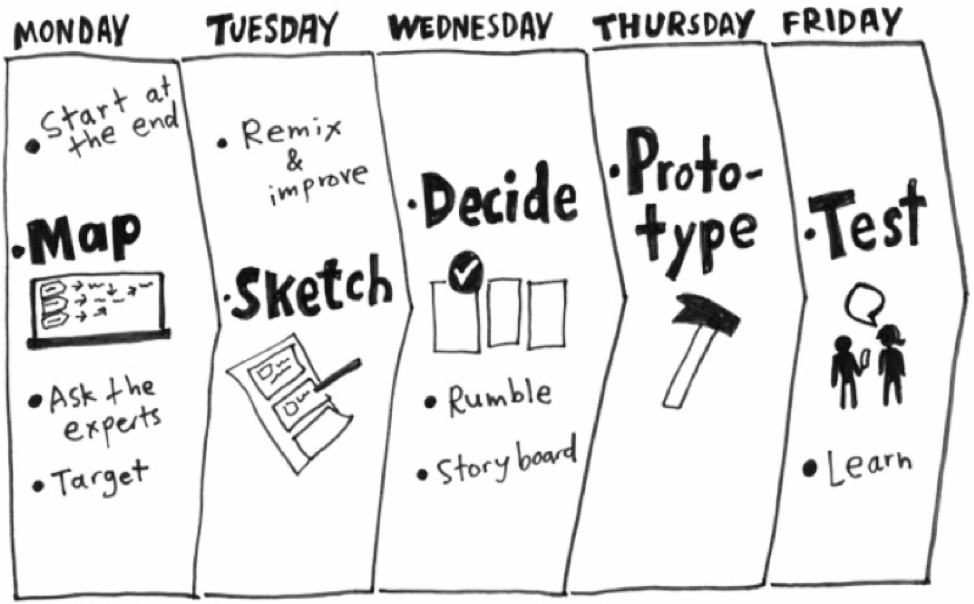 Maandag verkennen we je vraagstuk en bepalen we de scope van het probleem
Dinsdag komen we met zoveel mogelijk innovatieve oplossingen voor het vraagstuk
Woensdag wegen we voor- en nadelen per oplossing af en kiezen we de beste oplossing
Donderdag maken we een prototype
Vrijdag testen we het prototype bij je klanten of andere stakeholders
Cases
Jouw klanten écht blij maken, begint met onze feedbackvideo's. Laat je website, mobile site of app testen door de experts in remote user testing. Jouw users filmen zichzelf met hun eigen webcam. En geven je hardop hun open en eerlijke mening. Niet gefilterd door een labsetting, maar gewoon thuis. Waar zitten de knelpunten? Wat vinden bezoekers prettig, irritant, onduidelijk of juist te gek?